This week's topic is:
Top Ten Books I've Added to My TBR Recently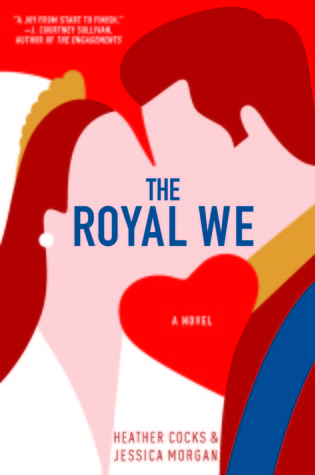 The Royal We by Heather Cocks and Jessica Morgan
"I might be Cinderella today, but I dread who they'll think I am tomorrow. I guess it depends on what I do next."

American Rebecca Porter was never one for fairy tales. Her twin sister, Lacey, has always been the romantic who fantasized about glamour and royalty, fame and fortune. Yet it's Bex who seeks adventure at Oxford and finds herself living down the hall from Prince Nicholas, Great Britain's future king. And when Bex can't resist falling for Nick, the person behind the prince, it propels her into a world she did not expect to inhabit, under a spotlight she is not prepared to face.

Dating Nick immerses Bex into ritzy society, dazzling ski trips, and dinners at Kensington Palace with him and his charming, troublesome brother, Freddie. But the relationship also comes with unimaginable baggage: hysterical tabloids, Nick's sparkling and far more suitable ex-girlfriends, and a royal family whose private life is much thornier and more tragic than anyone on the outside knows. The pressures are almost too much to bear, as Bex struggles to reconcile the man she loves with the monarch he's fated to become.
Which is how she gets into trouble.
Why I added it to my tbr:
I've been hearing such good things about this one from a variety of people. The premise seems just like the fun type of read that I enjoy on occasion.
The Imposter Queen by Sarah Fine
Sixteen-year-old Elli was a small child when the Elders of Kupari chose her to succeed the Valtia, the queen who wields infinitely powerful ice and fire magic. Since then, Elli has lived in the temple, surrounded by luxury and tutored by magical priests, as she prepares for the day when the Valtia perishes and the magic finds a new home in her. Elli is destined to be the most powerful Valtia to ever rule.

But when the queen dies defending the kingdom from invading warriors, the magic doesn't enter Elli. It's nowhere to be found.

Disgraced, Elli flees to the outlands, the home of banished criminals—some who would love to see the temple burn with all its priests inside. As she finds her footing in this new world, Elli uncovers devastating new information about the Kupari magic, those who wield it, and the prophecy that foretold her destiny. Torn between the love she has for her people and her growing loyalty to the banished, Elli struggles to understand the true role she was meant to play. But as war looms, she must align with the right side—before the kingdom and its magic are completely destroyed.
Why I added it to my tbr:
This one got on my radar after seeing
Sarah from WhatSarahRead
tweet about how much she loved it. Additionally, I've been hearing some fantastic things and I love me a good fantasy!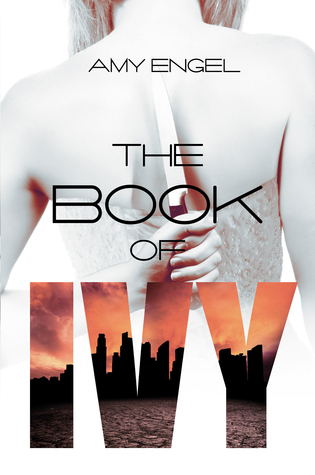 The Book of Ivy by Amy Engel
After a brutal nuclear war, the United States was left decimated. A small group of survivors eventually banded together, but only after more conflict over which family would govern the new nation. The Westfalls lost. Fifty years later, peace and control are maintained by marrying the daughters of the losing side to the sons of the winning group in a yearly ritual.

This year, it is my turn.

My name is Ivy Westfall, and my mission is simple: to kill the president's son—my soon-to-be husband—and restore the Westfall family to power.

But Bishop Lattimer is either a very skilled actor or he's not the cruel, heartless boy my family warned me to expect. He might even be the one person in this world who truly understands me. But there is no escape from my fate. I am the only one who can restore the Westfall legacy.

Because Bishop must die. And I must be the one to kill him…
Why I added it to my tbr:
It's been awhile since I've read a dystopian and this one has been popping up lately and I haven't seen one bad thing about it, so I figured it was worth checking out!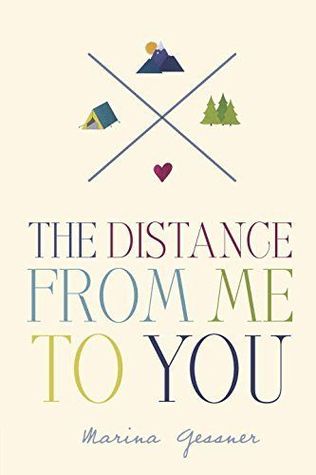 The Distance From Me to You by Marina Gessner
McKenna Berney is a lucky girl. She has a loving family and has been accepted to college for the fall. But McKenna has a different goal in mind: much to the chagrin of her parents, she defers her college acceptance to hike the Appalachian Trail from Maine to Georgia with her best friend. And when her friend backs out, McKenna is determined to go through with the dangerous trip on her own. While on the Trail, she meets Sam. Having skipped out on an abusive dad and quit school, Sam has found a brief respite on the Trail, where everyone's a drifter, at least temporarily.

Despite lives headed in opposite directions, McKenna and Sam fall in love on an emotionally charged journey of dizzying highs and devastating lows. When their punch-drunk love leads them off the trail, McKenna has to persevere in a way she never thought possible to beat the odds or risk both their lives.
Why I added it to my tbr:
I love traveling stories and two people falling in love while hiking sounds like a story I definitely want to read.
The Secret Horses of Briar Hill by Megan Shepherd
A contemporary masterpiece in the vein of The Secret Garden and A Little Princess, this stark, beautifully written story about a girl and the winged horses she sees will be cherished as a beloved classic for years to come.

There are winged horses that live in the mirrors of Briar Hill hospital. In the mirrors that line its grand hallways, which once belonged to a princess. In those that reflect the elegant rooms, now filled with sick children. It is her secret.

One morning, when Emmaline climbs over the wall of the hospital's abandoned gardens, she discovers something incredible: a white horse with broken wings has left the mirror-world and entered her own.

Tucked into the garden's once-gleaming sundial, Emmaline finds a letter from the Horse Lord. He is hiding the wounded white horse, named Foxfire, from a dark and sinister force—a Black Horse who hunts by colorless moonlight. If Emmaline is to keep the Black Horse from finding her new friend, she must collect colorful objects with which to blind him. But where can Emmaline find color when her world is filled with gray?
Why I added it to my tbr:
I just saw this pop up on twitter today in an ARC giveaway and while I admit that the cover drew me in initially, it was the premise that had me adding it immediately to my tbr. This one comes out in October and I can't wait to check it out.
The Good Neighbor by Amy Sue Nathan
When small lies have big consequences…

Things are a little rough for Izzy Lane. Still reeling from the break-up of her marriage, the newly single mom moves back to the Philadelphia home she grew up in, five-year-old Noah in tow. The transition is difficult, but with the help of her best friends—and her elderly neighbor, Mrs. Feldman—Izzy feels like she's stepping closer to her new normal. Until her ex-husband shows up with his girlfriend. That's when Izzy invents a boyfriend of her own. And that's when life gets complicated.

Blogging about her "new guy" provides Izzy with something to do when Noah's asleep. What's the harm in a few made-up stories? Then, her blog soars in popularity and she's given the opportunity to moonlight as an online dating expert. How can she turn it down? But when her friends want to meet the mysterious "Mac," someone online suspects Izzy's a fraud, and a guy in-real-life catches her eye, Izzy realizes just how high the stakes are. That's when Mrs. Feldman steps in, determined to show her neighbor the havoc that lies can wreak. If Izzy's honest, she could lose everything, and everyone. Is the truth worth any cost?
Why I added it to my tbr:
I honestly can't remember where I came across this one, but it sounded like a different sort of read and I love that the MC has a blog. I think it sounds quite fun and light which I've been looking for lately.
The Rook by Daniel O'Malley
Myfanwy Thomas awakes in a London park surrounded by dead bodies. With her memory gone, her only hope of survival is to trust the instructions left in her pocket by her former self. She quickly learns that she is a Rook, a high-level operative in a secret agency that protects the world from supernatural threats. But there is a mole inside the organization and this person wants her dead.

As Myfanwy battles to save herself, she encounters a person with four bodies, a woman who can enter her dreams, children transformed into deadly fighters, and an unimaginably vast conspiracy. Suspenseful and hilarious, THE ROOK is an outrageously inventive debut for readers who like their espionage with a dollop of purple slime.
Why I added it to my tbr:
I saw this one on a book outlet haul and after looking into it a little bit more, I had to add it to my list. That premise completely sucked me in.
Happiness for Beginners by Katherine Center
A year after getting divorced, Helen Carpenter, thirty-two, lets her annoying, ten years younger brother talk her into signing up for a wilderness survival course. It's supposed to be a chance for her to pull herself together again, but when she discovers that her brother's even-more-annoying best friend is also coming on the trip, she can't imagine how it will be anything other than a disaster. Thus begins the strangest adventure of Helen's well-behaved life: three weeks in the remotest wilderness of a mountain range in Wyoming where she will survive mosquito infestations, a surprise summer blizzard, and a group of sorority girls.

Yet, despite everything, the vast wilderness has a way of making Helen's own little life seem bigger, too. And, somehow the people who annoy her the most start teaching her the very things she needs to learn. Like how to stand up for herself. And how being scared can make you brave. And how sometimes you just have to get really, really lost before you can even have a hope of being found.
Why I added it to my tbr:
I think I originally saw this one on
Jamie's blog, The Perpetual Page-Turner
. When I looked it up on Goodreads, there were GLOWING reviews all around from many people I trust. Also, as I mentioned before, I'm a bit of a sucker for travel stories.
Iron-Hearted Violet by Kelly Barnhill
In most fairy tales, princesses are beautiful, dragons are terrifying, and stories are harmless. This isn't most fairy tales.

Princess Violet is plain, reckless, and quite possibly too clever for her own good. Particularly when it comes to telling stories. One day she and her best friend, Demetrius, stumble upon a hidden room and find a peculiar book. A forbidden book. It tells a story of an evil being—called the Nybbas—imprisoned in their world. The story cannot be true—not really. But then the whispers start. Violet and Demetrius, along with an ancient, scarred dragon, may hold the key to the Nybbas's triumph . . . or its demise. It all depends on how they tell the story. After all, stories make their own rules.

Iron Hearted Violet is a story of a princess unlike any other. It is a story of the last dragon in existence, deathly afraid of its own reflection. Above all, it is a story about the power of stories, our belief in them, and how one enchanted tale changed the course of an entire kingdom.
Why I added it to my tbr:
I love a good middle-grade and this one is the story of a princess and a dragon, sign me up please!
Forget Tomorrow by Pintip Dunn
Imagine a world where your destiny has already been decided…by your future self.

It's Callie's seventeenth birthday and, like everyone else, she's eagerly awaiting her vision―a memory sent back in time to sculpt each citizen into the person they're meant to be. A world-class swimmer. A renowned scientist.

Or in Callie's case, a criminal.

In her vision, she sees herself murdering her gifted younger sister. Before she can process what it means, Callie is arrested and placed in Limbo―a prison for those destined to break the law. With the help of her childhood crush, Logan, a boy she hasn't spoken to in five years, she escapes the hellish prison.

But on the run from her future, as well as the government, Callie sets in motion a chain of events that she hopes will change her fate. If not, she must figure out how to protect her sister from the biggest threat of all.

Callie herself.
Why I added it to my tbr:
After reading the synopsis, I had to find out how this story folds out. I haven't heard much but I'm so curious about this one!