I love fall for many reasons...one of them being that there are so many promising books being released this fall. So many that I'm going to have to break the fall up into monthly posts. Since we have officially entered September and some of these books are going to be released tomorrow, let's get started.
September New Releases
Released on September 3rd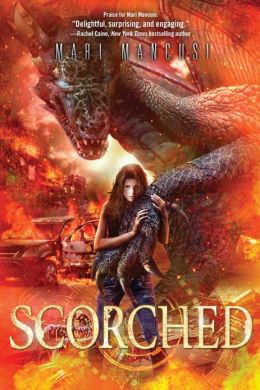 Trinity
Don't leave me here... It starts with a whisper. At first Trinity thinks she's going crazy. It wouldn't be a big surprise - her grandpa firmly believes there's a genuine dragon egg in their dusty little West Texas town. But this voice is real, and it's begging for her protection. Even if no one else can hear it...
Connor
He's come from a future scorched by dragonfire. His mission: Find the girl. Destroy the egg. Save the world.
Caleb
He's everything his twin brother Connor hates: cocky, undisciplined, and obsessed with saving dragons
Trinity has no idea which brother to believe. All she has to go by is the voice in her head - a dragon that won't be tamed.
I don't think there are enough dragon books out there. This one sounds unique and action-packed. One of the ones I'm most excited for this month. I love this cover as well - it looks fierce!
"You have to kill him." Imprisoned in the heart of a secret military base, Em has nothing except the voice of the boy in the cell next door and the list of instructions she finds taped inside the drain.
Only Em can complete the final instruction. She's tried everything to prevent the creation of a time machine that will tear the world apart. She holds the proof: a list she has never seen before, written in her own hand. Each failed attempt in the past has led her to same terrible present - imprisoned and tortured by a sadistic man called the doctor while war wages outside.
Marina has loved her best friend James since the day he moved next door when they were children. A gorgeous, introverted scientist prodigy from one of America's most famous families, James finally seems to be seeing Marina in a new way, too. But on one disastrous night, James's life crumbles apart, and with it, Marina's hopes for their future. Now someone is trying to kill him. Marina will protect James, no matter what. Even if it means opening her eyes to a truth so terrible that she may not survive it. At least not as the girl she once was.
A book about time travel? Sign me up. I've heard great things about this one, I can't wait to see if their true.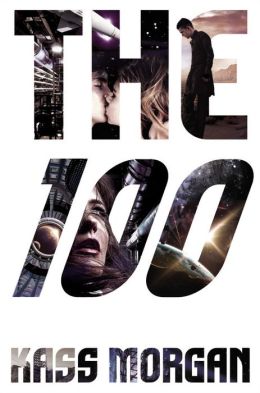 In the future, humans live in city-like spaceships orbiting far above Earth's toxic atmosphere. No one knows when, or even if, the long-abandoned planet will be habitable again. But faced with dwindling resources and a growing populace, government leaders know they must reclaim their homeland...before it's too late.
Now, one hundred juvenile delinquents are being sent on a high-stakes mission to recolonize Earth. After a brutal crash landing, the teens arrive on a savagely beautiful planet they've only seen from space. Confronting the dangers of this rugged new world, they struggle to form a tentative community. But they're haunted by their past and uncertain about the future. To survive, they must learn to trust - and even love - again.
I heard that this one has already been picked up to be a tv series. Must be something good in these pages and I can't wait to find out.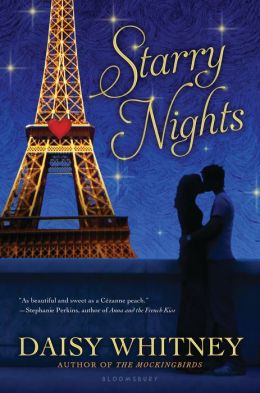 Seventeen-year-old Julien is a romantic - he loves spending his free time at the museum poring over the great works of the Impressionists. But one night, a peach falls out of a Cezanne, Degas ballerinas dance across the floor, and Julien is not hallucinating.
The art is reacting to a curse that trapped a beautiful girl, Clio, in a painting forever. Julien has a chance to free Clio and he can't help but fall in love with her. But love is a curse in its own right. And soon paintings begin to bleed and disappear. Together Julien and Clio must save the world's greatest art...at the expense of the greatest love they've ever known.
A modern fairytale of a girl trapped in art by a curse? And a boy that has to save her? Sounds like an amazing story, I can't wait to read this one!




Released on September 10th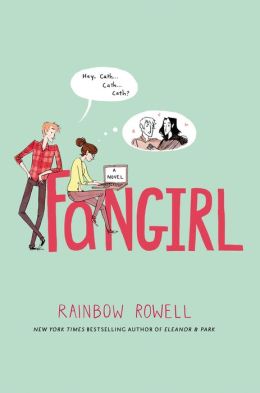 Cath is a Simon Snow fan.
Okay, the whole world is a Simon Snow fan...
But for Cath, being a fan is her life - and she's really good at it. She and her twin sister, Wren, ensconced themselves in the Simon Snow series when they were just kids; it's what got them through their mother leaving.
Reading. Rereading. Hanging out in Simon Snow forums, writing Simon Snow fan fiction, dressing up like the characters for every movie premiere.
Cath's sister has mostly grown away from fandom, but Cath can't let go. She doesn't want to.
Now that they're going to college, Wren has told Cath she doesn't want to be roommates. Cath is one her own, completely outside of her comfort zone. She's got a surly roommate with a charming, always-around boyfriend, a fiction-writing professor who thinks fan fiction is the end of the civilized world, a handsome classmate who only wants to talk about words... And she can't stop worrying about her dad, who's loving and fragile and has never really been alone.
For Cath, the question is: Can she do this?
Can she make it without Wren holding her hand? Is she ready to start living her own life? Writing her own stories?
And does she even want to move on if it means leaving Simon Snow behind?
I've heard so many amazing things about Rainbow Rowell and all of her books. This is one highly anticipated book and so far I've heard nothing but good things. This is another book that I'm most excited about!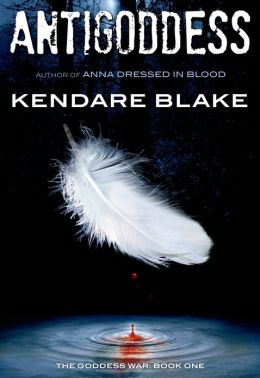 Old Gods never die...
Or so Athena thought. But then the feathers started sprouting beneath her skin, invading her lungs like a strange cancer, and Hermes showed up with a fever eating away his flesh. So much for living a quiet eternity in perpetual health.
Desperately seeking the causes of their slow, miserable deaths, Athena and Hermes travel the world, gathering allies and discovering enemies both new and old. Their search leads them to Cassandra - an ordinary girl who was once an extraordinary prophetess, protected and loved by a god.
These days, Cassandra doesn't involve herself in the business of gods - in fact, she doesn't even know they exist. But she could be the key in a war that is only just beginning.
Because Hera, the queen of the gods, has aligned herself with other of the ancient Olympians, who are killing off rivals in an attempt to prolong their own lives. But these anti-gods have become corrupted in their desperation to survive, horrific caricatures of their former glory. Athena will need every advantage she can get, because immortals don't just flicker out.
Every one of them dies in their own way. Some choke on feathers. Others become monsters. All of them rage against their last breath.
The Goddess War is about to begin.
I love greek mythology and this book has a very unique and interesting spin on greek mythology. I am really, really excited to read this book!




September 17th Releases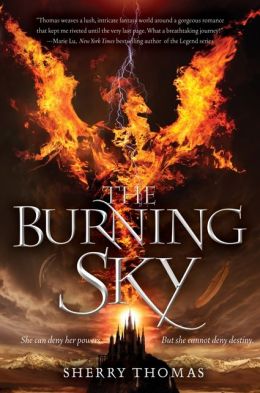 It all began with a ruined elixir and an accidental bolt of lightning...
Iolanthe Seabourne is the greatest elemental mage of her generation - or so she's being told. The one prophesied for years to be the savior of The Realm. It is her duty and destiny to face and defeat the Bane, the greatest mage tyrant the world as ever known. A suicide task for anyone let alone a sixteen-year-old girl with no training, facing a prophecy that foretells a fiery clash to the death.
Prince Titus of Elberon has sworn to protect Iolanthe at all costs but he's also a powerful mage committed to obliterating the Bane to avenge the death of his family - even if he must sacrifice both Iolanthe and himself to achieve his goal.
But Titus makes the terrifying mistake of falling in love with the girl who should have been only a means to an end. Now, with the servants of the Bane closing in, he must choose between his mission and her life.
I've been on a high fantasy kick lately and this sounds right up my alley. This book is one of the ones I'm most looking forward to. I've also heard some great things about this book, I can't wait to read it!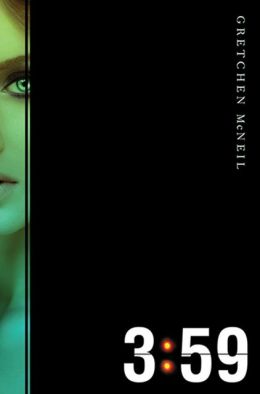 Josie Byrne's life is spiraling out of control. Her parents are divorcing, he boyfriend Nick has grown distant, and her physics teacher has it in for her. When she's betrayed by the two people she trusts most, Josie thinks things can't get worse.
Until she starts having dreams about a girl named Jo. Every night at the same time - 3:59 a.m.
Jo's life is everything Josie wants: she's popular, her parents are happily married, and Nick adores her. It all seems real, but they're just dreams, right? Josie thinks so, until she wakes one night to a shadowy image of herself in the bedroom mirror - Jo.
Josie and Jo realize that they are doppelgängers living in parallel universes that overlap every twelve hours at exactly 3:59. Fascinated by Jo's perfect world, Josie jumps at the chance to jump through the portal and switch places for a day.
But Jo's world is far from perfect. Not only is Nick not Jo's boyfriend, he hates her. Jo's mom is missing, possibly insane. And at night, shadowy creaturesfeed on human flesh.
By the end of the day, Josie is desperate to return to her own life. But there's a problem: Jo has sealed the portal, trapping Josie in this dangerous world. Can she figure out a way home before it's too late?
The premise of this books sounds so unique..a parallel universe? This books sounds like a creepy one, perfect for fall!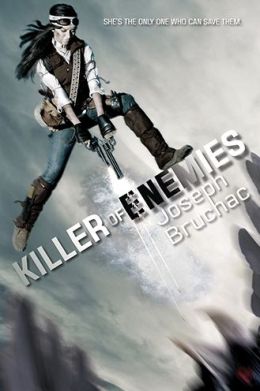 Years ago, seventeen-year-old Apache hunter Lozen and her family lived in a world of haves and have-nots. There were the Ones - people so augmented with technology and genetic enhancements that they were barely human - and there was everyone else who served them.
Then the Cloud came, and everything changed. Tech stopped working. The world plunged back into a new steam age. The Ones' pets - genetically engineered monsters - turned on them and are now loose on the world.
Lozen was not one of the lucky ones pre-C, but fate has given her a unique set of survival skills and magical abilities. She hunts monsters for the Ones who survived the apocalyptic events of the Cloud, which ensures the safety of her kidnapped family. But with every monster she takes down, Lozen's powers grow, and she connects those powers to an ancient legend of her people. It soon becomes clear to Lozen that she is not just a hired gun.
As the legendary Killer of Enemies was in the ancient days of the Apache people, Lozen is meant to be more than a hunter. Lozen is mean to be a hero.
This cover is FIERCE and this book sounds pretty bad-ass. I am very excited for this action-packed, dystopian read that is looking like it's going to be a perfect fall read!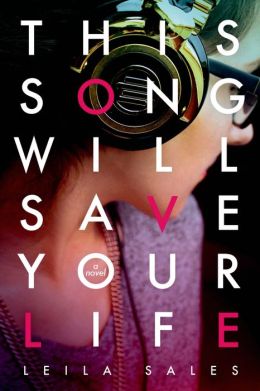 Making friends has never been Elise Dembowski's strong suit. All throughout her life, she's been the butt of every joke and the outsider in every conversation. When a final attempt at popularity fails, Elise nearly gives up. Then she stumbles upon a warehouse party where she meets Vicky, a girl in a band who accepts her; Char, a cute, yet mysterious disc jockey; Pippa, a carefree spirit from England; and most importantly, a love for DJing.
As a huge music fan, the title alone attracted me to this book. This book is hollering at me to read it!




September 24th Releases

A masterful, twisted tale of ambition, jealousy, betrayal, and superpowers, set in a near-future world.
Victor and Eli started out as college roommates - brilliant, arrogant, lonely boys who recognized the same sharpness and ambition in each other. In their senior year, a shared research interest in adrenaline, near-death experiences, and seemingly supernatural events reveals an intriguing possibility: that under the right conditions, someone could develop extraordinary abilities. But when their thesis moves from the academic to the experimental, things go horribly wrong.
Ten years later, Victor breaks out of prison, determined to catch up to his old friend (now foe), aided by a young girl whose reserved nature obscures a stunning ability. Meanwhile, Elie is on a mission to eradicate every other super-powered person that he can find - aside from his sidekick, an enigmatic woman with an unbreakable will.
Armed with terrible power on both sides, driven by the memory of betrayal and loss, the arch nemeses have set a course for revenge - but who will be left alive at the end?
A super-power book centered on mostly villainous characters...oh my goodness, YES. I can't wait to see were Victoria takes us with this one!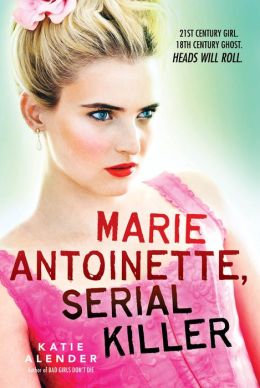 Colette Iselin is excited to go to Paris on a class trip. She'll get to soak up the beauty and culture, and maybe even learn something about her family's French roots.
But a series of gruesome murders are taking place across the city, putting everyone on edge. And as she tours museums and palaces, Colette keeps seeing a strange vision: a pale woman in a ball gown and powdered wig, who looks suspiciously like Marie Antoinette.
Colette knows her popular, status-obsessed friends won't believe her, so she seeks out the help of a charming French boy. Together, they uncover a shocking secret involving a dark, hidden history. When Colette realizes she herself may hold the key to the mystery, her own life is suddenly in danger...
A murder-mystery with Marie Antoinette and a French boy? I'm really excited to see what this one is all about!
What books are you most looking forward to in September? Have you pre-ordered any for this month? Have you read any of these already, if so, what did you think of them?